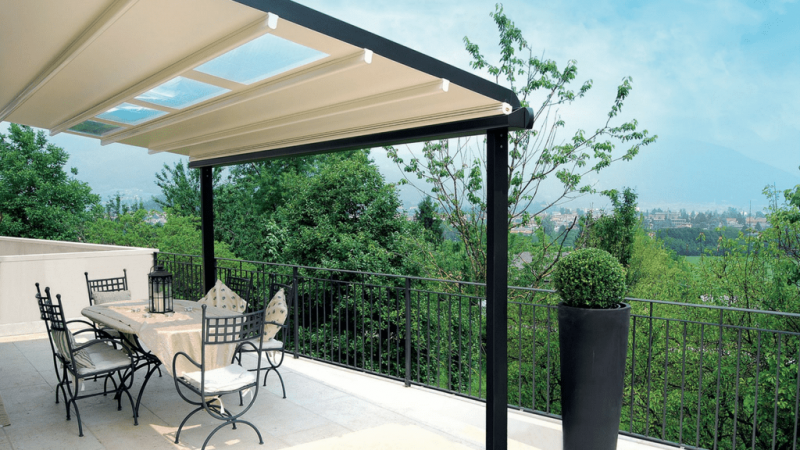 What are the advantages of retractable pergolas? You are probably up to date with the latest innovations in terrace locking systems, whether residential or commercial. But how many of you know the benefits of installing a retractable pergola? Is it worth the investment? What models can you choose?
We answer all these questions in today's article.
If you like to spend your time outdoors on the terrace of the house, but most of the time weather conditions such as scorching sun, rain or wind drive you inside the house, then find out that you should consider installing a retractable pergola or of a system for closing the terrace of your home.
A retractable pergola is a simple construction that can be installed by teams of specialists independent of your home. This, once mounted, can be operated extremely easily, either with the remote control or through a manual actuation system, in order to be able to control the light level.
1. Retractable pergolas protect you from the sun, UV radiation during the summer but also from rain
Retractable pergolas from ADAM Design benefit from quality materials that have the ability to repel UV rays and thus the formation of the greenhouse effect. They protect you from too strong sun rays that can disturb your comfort and in addition, the retractable pergolas from ADAM Design are 100% waterproof, resistant to rain, but also to extreme weather conditions, such as hail, snow, strong wind. They also benefit from an integrated drainage system which you will appreciate the usefulness of any rain, no matter how strong.
2. Retractable pergolas will ensure increased comfort even in the evening
Among the advantages of retractable pergolas, comfort is an important decision factor. These will ensure an increased comfort on the terrace of your home both during the day and in the evening, once it gets dark, all you have to do is turn on the pergola lights and adjust their intensity.
3. Retractable pergolas are extremely versatile
The versatility of retractable pergolas has become a common feature. Thanks to the most innovative shading systems, they are adaptable to any size. Whether we are talking about shading small residential terraces or large areas such as terraces of restaurants or cafes, these are the ideal solution, by simply pressing a button in the case of fully automated pergolas.
4. Retractable pergolas will help you extend your terrace season
Whether we are talking about home terraces or even more so if you have a business that involves outdoor activities, now you can extend the summer season with the help of retractable pergolas or the placement of terrace locking systems, such as locking systems. guillotine type terrace or harmonic type terrace locking systems. Therefore, the clients will no longer be expelled from the terrace due to the unfavorable weather conditions, and you will only have something to gain. Retractable pergolas are a future investment that can be easily amortized.
5. Easy to use by remote control
Retractable pergolas but also terrace closing systems benefit from an automated closing-opening system. With a simple push of a button, the terrace will be completely open, if we are talking about the guillotine terrace closing system that will allow the opening of the exterior walls. In addition, they can benefit from an integrated lighting system, fully automated, which allows you to turn off, turn on or reduce the light intensity, depending on your preferences.
6. Attractive design, in accordance with the aesthetic assembly of your house
Retractable pergolas are designed to fit your design needs perfectly. You will definitely surprise your guests when they notice that they will be able to adjust the shade on the terrace with a simple push of a button. In addition, the placement of a retractable pergola on any terrace is an aesthetic and modern solution. The retractable pergola will give the space a lush look regardless of location.
Whether you carry out a commercial activity in terraces, restaurants, cafes, pubs or you want an outdoor space that corresponds to your needs in any season, ADAM Design offers practical solutions for every project. Wide range of retractable aluminum systems (retractable pergolas, automated terrace closures, balcony closures) as well as transport and installation services for products purchased from us.
Ask us about the available models and we offer you FREE consulting because we want your dream to come true and take shape!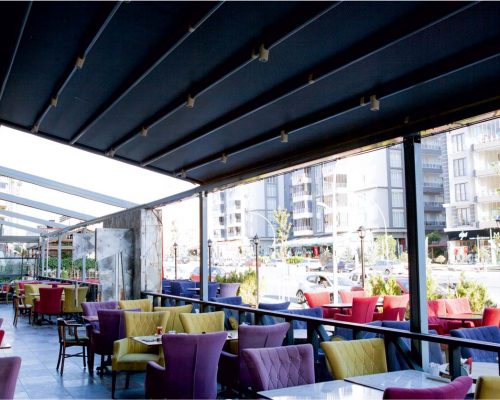 Retractable pergolas
---
ideal for residential or commercial awnings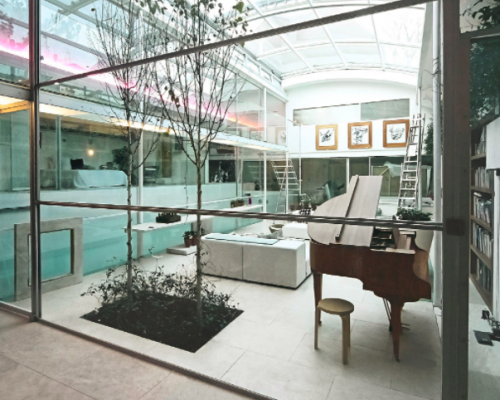 Terrace closing system
---
ideal for closing terraces or balconies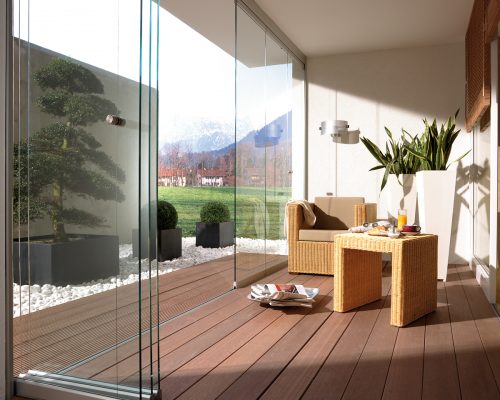 Harmonic sliding system
---
ideal for closing terraces or delimiting spaces