ADAM Design House S.R.L. is a company producing PVC / Aluminum joinery, our team having 16 years of experience in the field of plastics. Through the quality of the products and prompt services we offer, we have created an impressive portfolio of clients, ranking today in the Top 3 Romanian Business on our business niche.
The secret of our success?
We have our own production workshop and thus offer complete glazing solutions for our customers who have the opportunity to choose from a wide range of products and to order any kind of PVC/aluminum profile on the desired dimensions.
Our clients can choose from a wide range taking into account both the technical specifications of each profile, depending on the desired model, as well as the color or accessories.
What kind of PVC / aluminum joinery do we produce?
We produce PVC / aluminum doors – interior doors, exterior doors, garage doors, glass doors, oscillating doors and PVC / aluminum windows – oscillating windows, casement windows, windows for balconies, or glass facades. We also have a wide range of accessories: blinds, shutters, blinds, shutters, shading systems, insect nets, window sills, etc.
We are available to our partners throughout the production process, providing measurements, product order and transportation services.
Where are the profiles we work with made?
The PVC profiles we work on are made in Germany. We offer our clients several types of profiles:
6 air chambers and 48 mm double glazing;
5 air chambers and 24 mm double glazing or 42 mm trypan glass.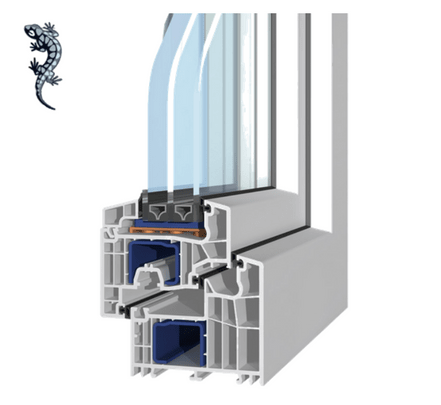 with 4 air chambers and 24 mm double glazing.
The hardware for PVC joinery we work with completes the quality of the products:
RotoNT type hardware available in the upper range, for Salamander PVC profiles
VORNE type hardware in the case of the ecological range, for Ramplast PVC profiles.
GEALAN S 8000 IQ PVC profiles have specific spacing systems, used in the case of residential doors so that the profile can allow stiffening elements as large as possible. These special positioning of the spacer bars allows a constructive depth of 74 mm, a feature that allows reinforcement elements with a 30% higher bending rigidity.
Moreover, if we talk about Gealan S 8000 IQ PVC profiles for residential PVC doors, Gealan also offers threshold support with an optimal joint and efficiency, these threshold systems are available on request.
Regarding the manufacture of aluminum joinery, we offer a wide range of products made of Balkan and Alumil aluminum profiles.
BALKAN Regal Thermo 262 profiles with the following advantages:
aluminum doors up to 70 mm high and up to 181 mm wide;
wide range of connection angles;
allows the construction of large glass surfaces;
allows locking system for interior doors of hotels, banks, offices;
high level of water tightness and air permeability;
ideal for panoramic facades of offices, complex architectural ensembles, glass domes or even for various residential projects, where the sustainability factor plays a particularly important role.
From the range of top aluminum profiles, ADAM Design offers products made with the help of SMARTIA M11000, SMARTIA M9660, SMARTIA M19800, SMARTIA M7 and SMARTIA S560 profile systems, each system adapted to a wide range of requirements.
Alumil aluminum systems are a choice for a lifestyle, with minimal maintenance requirements. Although the durability of the systems is extremely generous, in case of their replacement the profiles are completely recyclable, thus contributing to the protection of the environment and the responsible consumption of resources.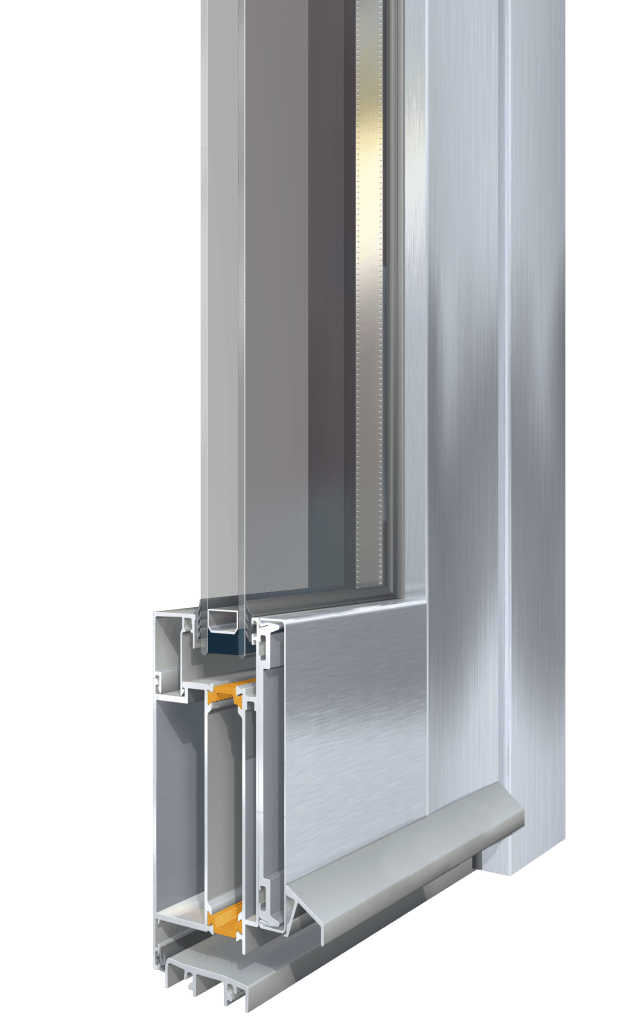 What guarantees do we offer?
We guarantee 5 years warranty regarding the quality of the manufactured products. We have fixed delivery times, in addition, we ensure the delivery of the product in a maximum of 14 days at the headquarters of our partners from all over the country.
Where can you find us?
Office address, production PVC / Aluminum joinery – Popesti Leordeni, Soseaua de Centura, nr. 55 A
Our showrooms in Constanta or Ploiesti are at your disposal with customized solutions for each Adam Design House client:
Ploieşti: 0722 361 214
Str. Gheorghe Doja, nr. 146
Constanţa: 0731 233 377
Bd. Tomis, nr. 220